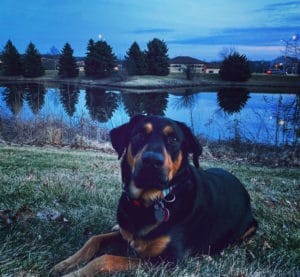 I awaken these days early in the morning, sometimes before five, to my dog Chance raring to go. Unlike me, he is a patient creature, and he indulges my tendency to ward off the worries of the impending day and steal another few minutes of sleep. I grab Chance close and cuddle him tight. Perhaps he is humoring me when he falls back asleep, but his gentle snoring suggests otherwise. I massage the back of his head and fall asleep myself.
I treasure these moments of safety in the morning because, in the darkness of my once depression, I feared to open my eyes. I longed to lock myself away from the pain of the world, to turn my bed into a prison. But these days, with Chance by my side, I feel safe again. Together, we will ourselves out of bed and summon a hopeful day.
The routine of our day is preordained in the time of the pandemic. We arise and feed Chance, I write and read for a few hours, and then we head to play fetch at the dog park with my father. This time is the apex of Chance's day, if not the apotheosis of his very existence, and each day it feels like a gift to give it to him.
At the age of thirty-five, I hoped to be living with a dog, but not a parent. That said, one does not plan for one's life to implode, much less a diagnosis of Parkinson's for a parent who used to play college basketball and long represented the paragon of masculine athleticism. But one also does not expect the world to implode, nor does one plan for it. I have learned to respect this new rhythm of a routine, to view it as a respite, a retreat, a restart. I have learned to embrace the chance to spend more time with my father.
When we finish fetch, Chance is panting heavily, always grasping for air. After we supermarket-sweep it at the grocery store, we head home, where I dispense with cooking breakfast (as of late, a frittata of some sort). My father has grown accustomed to my fondness of spice, and accepts with alacrity my preferred mélange of salt, cayenne, and herbes de provence. I could be mistaken about my skill in the kitchen, since my father has always been my champion in every endeavor in life, but I would like to think otherwise. Regardless, Chance is always impressed with the spoils.
The rest of the day is also firmly routinized: I write a few more hours, put together a lunch, go on a walk with Chance, watch Kim Yuna figure skating videos on YouTube, read and write a bit more, fake a workout with my only weight—a 9-lb dumbbell, the only one remaining at Target—and then, reluctantly, take a shower. I cook a dinner (lately, a variation on enchiladas), read a bit more, and fall asleep rather quickly while watching Captain Jean-Luc Picard in Star Trek: The Next Generation. He is no Captain Janeway, to be sure, because no one can replicate the verve and vivacity of actress Kate Mulgrew, but Patrick Stewart is marvelous is his own way.
In the midst of a pandemic, it seems terribly vain to admit that I find solace in this routine. I only recently emerged from one of life's rougher patches, one that presciently foretold the contemporary chaos of Covid-19. It is not lost on me, the irony of it all: the apparent integration of my life is coterminous with the seeming disintegration of the world.
But beyond irony, which is an analytical concept that represents a particularly privileged place in life, my time severed from the world has allowed me a selfish pause to put together the pieces of a fractured soul. From the depths of depression, I now write my way toward a future that feels more hopeful, even as the world around me burns.
I suppose I have settled on the following: I have temporarily lost faith in the world as I have temporarily found faith in myself. But just as I did not give up on myself, I refuse to give up on the world. And I cannot possibly do something to effect change in that world if I remained mired in a dark state of self-hatred. Just as I now believe anew in the beauty in myself, because I have seen the depths of the ugly, I still believe in the world. It simply does not seem right to close my eyes to the dawn.