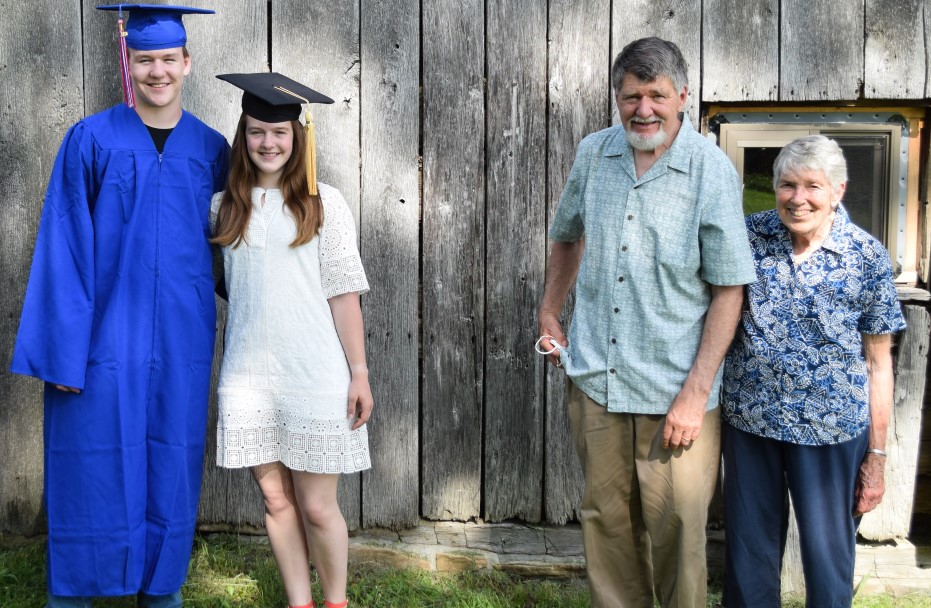 My husband and I have two seniors, one in high school and one in college. We were looking forward to celebrating their accomplishments in May, but the pandemic changed everyone's life forever in March.
We moved into a new house the week before our state health department issued a stay-at-home order. We met a few neighbors, but not the way we might have before COVID-19. Even that week we moved in, people kept their distance and we yelled across the street to greet them. Our daughter, who had been traveling in England, was rushed home early by the university as it became abundantly clear that flights back home might not be available much longer. She ended up quarantining with us just in case she brought something home with her, which meant we had to quarantine as well. My husband and I worked on campus, and both of our jobs went virtual by March 15.
We watched as one activity after another was cancelled, and both of their senior years started to unravel. First, the campus was closed, which meant our daughter lost both of her on-campus jobs. We made the tough decision for her to move in with us, and she found someone to take on her apartment lease. She's 22 and I doubt she thought she would be living with her parents after being on her own for four years. Our son's school decided to close, moving all classes online for an undefined amount of time. The once-in-a-lifetime trip to Italy and Greece, a graduation gift for our son, was cancelled by the school. Then, lacrosse season for our son was in doubt. He watched the news, and checked the OHSAA website daily for updates, finally all spring sports were cancelled. Then came questions about our daughter's internship at a meat packing plant in Nebraska, finally cancelled. One tiny cut after another. Weeks of painful disappointments and let downs. We tried to stay strong for our kids, but there were days the tears would flow when we realized there would be no senior night to celebrate our son, no final frantic weeks on campus for our daughter and her friends, no "lasts" that senior year commemorates in those last months of spring.
And what about graduation? That time-honored tradition of donning a cap and gown, parading by your parents, grandparents, and family? We waited for news about that, knowing full well that there was no way either school (14,000+ students at Ohio State and 400 students, plus family members) would be allowed to hold a ceremony in person with so many people crammed in together. When the news finally came, we were so beaten down by loss, it was just a footnote to the already long months of March and April. Just another disappointment. And people would say, "Well, there are seniors across the world who are missing graduation" or "This loss won't define you" or "We're in the together." All true, but it did not lesson the sadness that we would be missing not one, but two celebrations for our children who had worked so hard and should have had their moment to shine in front of family and friends. It truly hit our daughter the day before virtual graduation, when she was on campus taking senior photos for a friend, that she would not join the thousands of students before her to have her moment in the "Shoe," the horseshoe shaped stadium on campus. And then her internship was cancelled and she broke up with her boyfriend of four years. There was literally nothing for her to look forward to.
Virtual graduation was the best it could have been. We ordered their favorite foods, enjoyed pictures on the lawn with the grandparents six feet away, we took pictures in front of the TV in their cap and gown when their college (daughter) and name (son) were announced. We tried to capture all of the regular moments that we would have otherwise, but it was not the same. If anything, it was more intimate and personal, but still not the graduation we had all dreamed about. There is just something about that moment, with all of the families, all of the pomp, all of the ceremony that truly marks the end of an era. We were just sitting in our living room, watching the TV.
We are in our routine now, my husband and I still working from home, the kids working a part-time job and commuting together. Our state is slowly lifting restrictions, but we continue to wear our masks, wash our hands, and keep our distance from friends and grandparents who have underlying health issues that could make COVID-19 deadly. We have more time talking, more cooking together, more laughing, more arguing, more little moments we might not have had otherwise. We are getting used to our new normal, our post-pandemic life while still living a little bit in fear that it could come to our house any time. We will never be the same again.