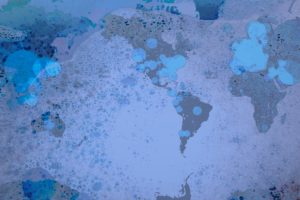 Tuesday, March 17th. I remember this day vividly. It was 6 pm. The sun in the cold, Minnesota sky had already set over the horizon. I walk home after a tutoring session with my chemistry teacher, a meeting for the Medical Club, and an hour-long badminton practice after school. Both my feet dragging through the 2-feet tall dirty snow. My body is exhausted. My heart is distressed. And my head is full of assignments and tests that I need to study for. After a 10-minute walk in the cold with my eyes half-closed, I finally arrive home. My hands are automatically repeating the same old routine: change clothes, eat snacks, and then watch hours of Tiktok. By the time I realize, it's already 9 pm and I haven't started any school assignments.
10 pm. I'm still struggling with my Pre-Calculus homework when I hear my parents screaming my name downstairs. This was typical. But today, their tone of voice somewhat sounds heightened, or curious. I immediately get up and bring my body downstairs. My dad shows me an email titled "SCHOOL CLOSURE: Covid-19 Update." At that moment, I learned what a "Dream Come True" literally feels like.
A few weeks had passed by in quarantine. I don't even keep track of my days anymore. I am repeating the same routine every day again, just like at school before COVID. I feel relaxed, but I am getting tired of my own shell of laziness and unhealthiness. Scrolling through hours of Tiktok every day, I have been coming across the same type of videos: breakfast oatmeal. I have heard of oatmeal before, but its dull appearance never appealed to my appetite. Oatmeal is a type of flour made with ground oat grains. In every single one of the oatmeal videos, people are describing the food as tasty, filling, and nutritious. The various colorful fruit, seeds, and nut butter toppings sparked my cravings. I saved one of the recipe videos and decided to try it in the morning. The recipe is fairly simple: boil the oats for five minutes and add whatever toppings you would like. After getting my oats to the dry texture that I like, I add bananas, frozen berries, chia seeds, and almond butter for my toppings. I nervously scoop a spoonful and bring it to my mouth. The chewy texture of bland oatmeal with the sweet banana and sour berries combine perfectly inside my mouth. I chew slowly and carefully, enjoying every bit of the flavor. I could not believe this. This meal is so easy to make and yet, so flavorful and nutritious.
Since then, I go to bed every night happy and excited, knowing what I am going to have for breakfast. I stopped going to sleep at 3 am, eating cereals for breakfast, and being lazy throughout the day. Making my own, perfect breakfast feels like I have accomplished something early in the morning and encourages me to continue my productivity for the rest of the day. I started with small things like washing the dishes for my family, going out for a walk, and looking for more healthy meal recipes for not just breakfast. I made it my goal to "glow up" during this quarantine. I was never interested in fitness, but glowing up includes getting back in shape and losing the quarantine weight. I started working out every day with the help of Youtube videos. I became conscious of what I put in my body. And I made an active effort to drink 1.5 liters of water. By the end of June, I had entirely changed my lifestyle, improved my emotional well-being, and lost 10 pounds of weight.
Finding my love for oatmeal has changed my life. Because of oatmeal, I found new passions for fitness, healthy meals, and productivity. It has inspired me to become a healthier, happier, and smarter person. For me, oatmeal acts as a turning point for my health. During the coronavirus pandemic, I could have chosen to stay lazy, unproductive, and unhealthy, but instead, I chose to act upon my interest. This pandemic has been a stressful toll on everyone in the world, but I believe it also gave each of us a valuable life lesson. So, if there is anything that anyone should take away from my experience during the pandemic, it is that you should really try out oatmeal.